Window Tinting Services in Hurricane, WV
Since 1976, Sun Control Inc. has been your energy management, consulting and contracting firm, providing tinting and shade products and installation services to residential, industrial and commercial clients in the United States and Canada. We apply solar, security and safety film to windows, install energy-efficient lighting and shades, and more.
Experience the Benefits of Professional Window Tinting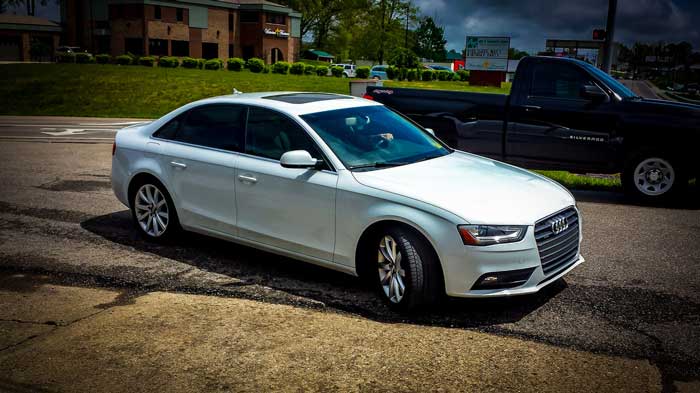 For residential homes, commercial businesses and vehicles alike, there's no understating the many benefits window tinting in West Virginia has to offer. For sunlight control and UV mitigation, there's no better solution—tinting is cost-effective, non-invasive and resilient. And, when you trust the professionals at Sun Control Inc. to install your tint, you'll also get the guarantee of proven products and tenured professionals. We're the premier professional window tinting service in West Virginia because we understand the products we sell and how they best be leveraged in residential, commercial, and auto applications.
Our window tinting services in Hurricane, Putnam County, and Teays Valley, WV serve to address any UV concerns you might have. Tinting stops UV damage, keeps temperatures consistent, reduces HVAC cycling and more—all resulting in better indoor conditions, lower energy costs and extended HVAC lifetimes. And don't forget about the safety and security window film provides! Film can prevent glass shattering, deter burglars and strengthen windows. You'd be hard-pressed to find an application that does all of these things for your windows, at the affordable cost of window film. We invite you to contact us today to learn more about the products and services we offer, and to see how window film can serve you.
All of our technicians are certified to do government work and we're a certified vendor for the Federal Contract Registry and the SAM database.
We're a Select Pro Dealer for LLumar, one of the industry's top brands of window tint.
Our business was founded in 1976 and is backed by decades of professional experience.
Our window tinting services serve residential, commercial and industrial customers alike.
We're a nationwide tint provider, serving businesses in the USA and Canada.
We offer quality professional window tinting services in all of:
Hurricane, WV
Charleston, WV
Huntington, WV
Beckley, WV
Morgantown, WV
Parkersburg, WV
Clarksburg, WV
Lewisburg, WV
Putnam County, WV
Mason County, WV
Cabell County, WV
Lincoln County, WV
Jackson County, WV
Kanawha County, WV
LLumar as seen on Designing Spaces
Tint Your Windows Today
To experience the cost-saving benefits and privacy features that window film offers, get in touch with us today. We'll give you a window tinting services quote on your home, commercial building or vehicle today!
Contact Us